Welcome to Avis
Car Rental at Toulouse Airport
Toulouse-Blagnac Airport Car Hire
Hire a car in Toulouse and discover southwest France
Toulouse-Blagnac Airport provides perfect access to France's mountains and Mediterranean relaxation. Some of the most beautiful French countryside is within an hour's drive in the Languedoc-Roussillon and Midi-Pyrénées regions. No matter the time of year, Toulouse is situated perfectly for either ski or sun holidays.

How to find the Avis car rental desk at Toulouse-Blagnac Airport
When exiting arrivals, please leave the Airport Terminal and head towards car park P2. Avis is located on the bottom floor of the car park.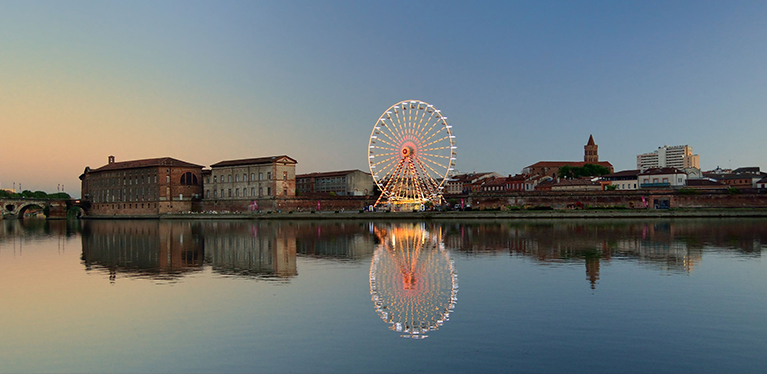 Address & Contact Details
Aeroport De Blagnac Hall C, Blagnac, 31700. Tel: 0820611678

Opening Times
| | |
| --- | --- |
| Monday | 07:00 - 20:00 |
| Tuesday | 07:00 - 20:00 |
| Wednesday | 07:00 - 20:00 |
| Thursday | 07:00 - 20:00 |
| | |
| --- | --- |
| Friday | 07:00 - 22:00 |
| Saturday | 08:00 - 18:00 |
| Sunday | 09:00 - 22:00 |
Planning your trip to Toulouse
Toulouse-Blagnac Airport is located northwest of the city of Toulouse. If you are heading into the centre, you'll need the D901 and the journey will take around 15 minutes.

Known as La Ville Rose, thanks to the colour of the bricks used to construct many of its buildings, the city of Toulouse has much to recommend it – a lively cultural scene, fine food markets and restaurants and a superb location at the confluence of the Canal du Midi and the River Garonne.

The Place du Capitole is at the city's heart, where locals congregate to sip coffee or an aperitif and watch the world pass by. To the south of the square take time to explore the city's Old Quarter, brimming with cafes, shops and eateries.

On the city's outskirts you'll find Cité de l'Espace, a fascinating exploration of the role of Toulouse in France's aerospace industry. The museum brings this industry to life through fascinating, hands-on exhibits and full-scale replicas of iconic spacecraft.
Road trips from Toulouse-Blagnac Airport
The airport is ideally placed for driving further afield. If you're heading to the Pyrenees, you'll need to head south on the A64.

The Pyrenees
If you're heading to the Pyrenees, you'll need to head south on the A64. The Parc National des Pyrénées is wonderful walking terain, with its high peaks, streams, forests and wildlife. The steep and windy mountain passes offer incredible vistas and there are plenty of opportunities for a pit stops in the charming mountain villages. The Pyrenees is also the location of one of the world's most important pilgrimage sites – Lourdes, which receives around six million visitors a year.

Carcassonne and Languedoc-Roussillon
Head east to Languedoc-Roussillon, with its rocky coastline, rugged interior and spectacular canyons. It's a province filled with Romanesque abbeys and churches, Cathar castles and vineyards. Enjoy the stunning views as you negotiate winding hilltop roads and coastal drives. It's an area steeped in history, often rebellious and resistant to foreign invaders and religions, and fortresses and lookouts that dot the landscape are a glimpse into that past.

Don't miss the magnificent walled city of Carcassonne. Perched high on a rocky outcrop, this medieval walled city offer winding, cobbled streets and ancient stone houses and views for miles of the countryside beyond.

Pézenas
The old town of Pézenas is a full of grand old town houses, narrow cobbled streets, antique shops and flea markets. Try to visit on a Saturday, when many of the streets are filled with market stalls selling local produce and bric-a-brac.